Chocolate Almond Milk Ice Cream: Keto Style
Hello, ice cream lovers! Here's a quick chocolate almond milk ice cream recipe you can have all year round.
If you're craving a cool creamy dairy-free treat, I have just the right treat for you that will satisfy your ice cream craving. Not only is this recipe Keto, which is all the rage these days, but it is also dairy-free, gluten-free, sugar-free, and vegan.
I have given you a recipe to make fresh almond milk. However, a good quality one from the grocery or health food store will do just fine as well.
Dive right in and give it a try!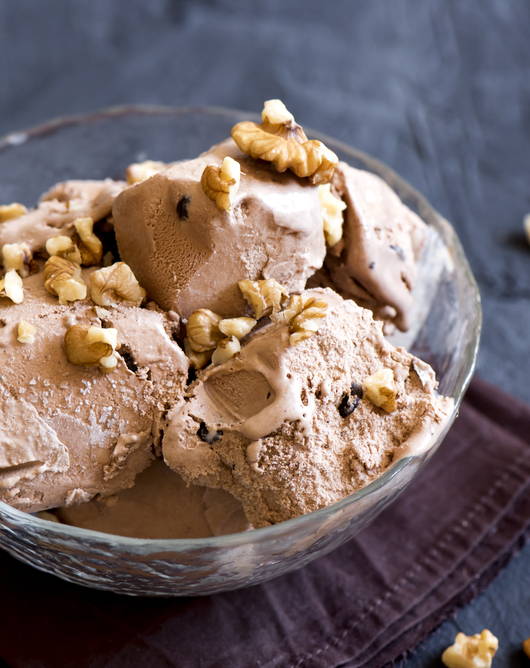 Ingredients
6–8 vanilla almond milk ice cubes (see recipe below)
½ cup frozen avocado
1 tablespoon chocolate Sunwarrior Collagen protein
2 teaspoons raw cacao or raw carob
½ teaspoon liquid stevia – English Toffee or other sweetener
Non-alcoholic vanilla extract
Almond Milk Ingredients
1 cup pre-soaked almonds
3 cups water
Vanilla bean or liquid vanilla extract to taste
Stevia to taste or sweetener of your choice
Directions Almond Milk
Soak almonds in filtered water for 8 hours.

Drain and rinse well.

In a high-powered blender, blend well.

Using a nut milk bag or strainer, strain to remove the almond pulp.

Place strained almond milk back into the blender.

Scrape the vanilla pod to remove the vanilla bean and add to the almond milk. Do not throw away the vanilla pods. Add the vanilla extract.

Add the stevia and blend on low.

Pour the almond milk into a mason jar and add in the vanilla pod.

Allow the vanilla pod to infuse its flavor into the milk for at least a few hours or longer.

Place the almond milk in ice cube trays and freeze well.
Directions Ice Cream
Once the almond milk ice cubes are fully frozen, add the almond milk cubes and avocado to a food processor or a high-powered blender and blend until the almond milk cubes are slightly slushy.

Add the chocolate protein powder, raw cacao or raw carob, vanilla, and stevia and blend again until creamy. Do not over mix. The ingredients should bind together and have an ice cream consistency (a food processor does this the best).

Place ice cream in a glass ice cream cup and drizzle with vanilla extract.
**Optional for more Keto ingredients top ice cream with one or two of any of the following ingredients - coconut flakes, cacao nibs, walnuts, pecans or any other nut or seed of your liking.
---